2011 SIUC Environmental Ambassadors
Main Content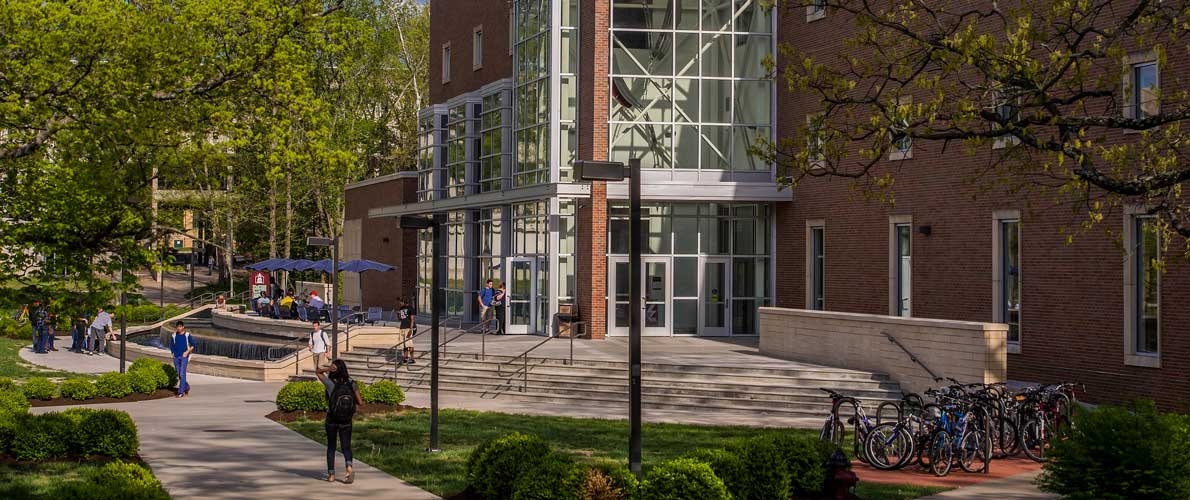 On May 5, 2011, SIUC Service Learning and Volunteerism  and the SIUC Sustainability Council hosted the 2011 SIUC Environmental Ambassador Awards ceremony in Ballroom A at the SIUC Student Center. Chancellor Rita Cheng and Ryan Klopf, Chair of the SIUC Sustainability Council presented  awards to twenty two students who performed a tremendous amount of volunteer service for positive environmental projects during the 2010-2011 academic year. Including the 2011 award winners, there have been a total of 133 SIUC Environmental Ambassador Awards presented since the program began during the 2001-2002 academic year. These students have provided many thousands of volunteer hours for the betterment of our environment.

Ryan Klopf stated:  "Building a sustainable future will require the type of dedication and service each recipient of an Environmental Ambassador award has demonstrated.  I congratulate and thank each recipient of this award for their work, and encourage them to consider designing a green fund project to continue as leaders for progress at SIUC." 
2011 Environmental Ambassadors:
Ryan Casey, senior, Geography & Environmental Resources from St. Charles, IL
Russell Cerocke*, senior, Forestry from Chicago, IL
Melissa Flint*, senior, Zoology from Bolingbrook, IL
Gabriel Garcia, freshman, Pre-Major from Chicago, IL
Lucas Garcia, senior, Forestry
Kory Garrie, senior, Forestry/Natural Resources from Byron, IL
Genevieve Gieser, junior, Geography & Environmental Resources from Elmhurst, IL
Christian Hidrobo, senior, Geography & Environmental Resources from North Riverside, IL
Michael Jakubowski, sophomore, Forestry
Nicole Lence, graduate student, Food & Nutrition from Ozark, IL
Ashley Marchello, senior, Biological Sciences from Greenville, IL
Jason Mischke, freshman, Architecture from Rhinelander, WI
James Naughton, junior, Forestry from New Lenox, IL
Chris Peters, senior, Geography & Environmental Resources from Carpentersville, IL
Theodore Peterson, senior, Art from Rockford, IL
Kimberly Rowan, senior, Geography & Environmental Resources from Park Ridge, IL
Pawel Sawiki*, senior, Geography & Environmental Resources from Carbondale, IL
Alexzandria Scanlan, freshman, Zoology from Carpentersville, IL
Leah Shirley, sophomore, Accounting from Lincoln, IL
Nathan Speagle*, senior, Forestry from Owaneco, IL
Brian Thietje*, senior, Forestry from Ava, IL
Martin Wilson, senior, Forestry from Carbondale, IL
*Repeat Winner
In addition to the Environmental Ambassador Awards, the Striving for Excellence Outstanding Volunteer Awards ceremony honored SIUC students and organizations with two highly prestigious awards:
Delyte Morris Award
This award is given to students and student organizations who demonstrate excellence and commitment to community service. The award honors the legacy and vision of late university president Delyte Morris who believed that service is at the heart of higher education. The winners included:
Allison Arvanis, a senior studying Psychology and Pre-Physical Therapy
Campus Girl Scouts, a registered student organization at SIUC
Presidential Volunteer Service Award
This award recognizes individuals who complete 100 hours or more of voluntary service in one year.  The service must be completed in fields designated by the United States President's Council
On Civic Participation. The winners included:
Stephen Ebers, a junior studying Biological Science
Toni Manzella, a graduate student in Social Work
Megan Minnis, a senior studying Elementary Education
The Delyte Morris and United States Presidential Volunteer Service awards were presented by Chancellor Rita Cheng and Associate Vice Chancellor Peter Gitau.